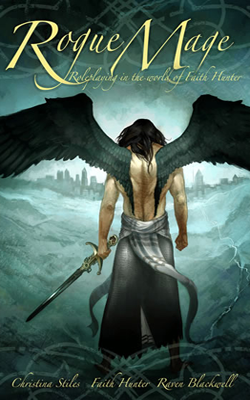 You've read the books, now read the World Book and play the game!
Based on Faith Hunter's apocalyptic fantasy trilogy (Bloodring, Seraphs, and Host), and containing new fiction — several vignettes and a complete short story about Thorn St. Croix, the Rogue Mage roleplaying game takes you deeper into the world of Thorn, and also lets you play neomages, kylen, humans, and mules in the battle against the Darkness. Additionally, the game reveals how magic works in the Faithverse, and details how other parts of the world are faring after the apocalypse.
Rogue Mage is written by Christina Stiles, Faith Hunter, and Raven Blackwell, and it's edited by Spike Y Jones. Christina Stiles is the author/co-author of Unhallowed Halls, Faery's Tale, and the Village of Briarton. Faith Hunter is the author of the original trilogy, and she's included some vignettes and a complete short story in the game book. Raven Blackwell is a fan-favorite author of magic systems. And, Spike Y Jones, is the Origins-Award-nominated editor of Testament: Roleplaying in the Biblical Era and Faery's Tale.
Rogue Mage uses only a 20 sided dice (d20) to play. The game system uses the world's most popular roleplaying game rules set for superhero games, modified for ease of play. Character creation is through point buy, and the system contains no classes.
The Rogue Mage project started 4 1/2 years ago. It was a personal project of Faith Hunter and Christina Stiles, initially. As the game mechanics grew, Raven Blackwell was brought on board to help write it, and Spike Y Jones was brought on to edit it.
The game will be available softcover and downloadable PDF.
A forum dedicated to the Rogue Mage game can be found at the Misfit Studios website.
For more information, please visit the game site at http://www.roguemage.net.