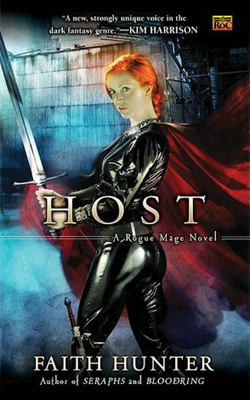 In a novel filled with exhilarating action and lush imagery, Faith Hunter portrays a near-future world, caught in the throes of an ambiguous apocalypse, where a woman with everything to hide finds her destiny revealed….
In a post-apocalyptic ice age, neomage Thorn St. Croix was nearly driven insane by her powers. She lived as a fugitive, disguised as a human and married to a human man, channeling her gifts for war into stone-magery. When she was discovered, her friends and neighbors accepted her, but warily. Not so the mage who arrives from the Council of Seraphs, who could be her greatest ally-or her most dangerous foe. And when it's revealed that her long-gone sister, Rose, is still alive, Thorn must make a choice-and risk her own life in the process.
Host Description:
Publisher: ROC; Reprint edition (January 6, 2009)
Author: Faith Hunter
Series name: Rogue Mage
Book Genre: Paranormal Fantasy / Urban Fantasy
Number of Pages: 336
Formats available: Paperback; Kindle; Nook
ISBN-10: 0451462467
ISBN-13: 9780451462466
Also available at your favorite local bookstore. If they don't have it in stock, just ask for it!
Signed Copies Available Only At: The BooKnack (available via internet or phone order)
Online Book Review Locations For Host:
You can read reviews of the urban fantasy book, Host, at one of the websites below or leave one of your own!
Amazon
Goodreads
Google Books
Shelfari
Library Thing
Read an excerpt HERE
You can order them online at these vendors.

From Publishers Weekly
The third novel in Hunter's postapocalyptic fantasy series finds neomage Thorn St. Croix working as a jeweler and town mage in the rural Appalachian town of Mineral City, Carolina. Then her former home, the New Orleans Enclave, sends arrogant metal mage Cheran Jones, ostensibly to instruct her in media relations as she is woefully lacking in diplomatic knowledge and abilities. When the deadly succubus queen's war on Mineral City provides enough death energy for the powerful Dragon to escape its prison between the planes of reality, Thorn is pulled between the demands of the ultra-lawful Administration of the ArchSeraph and its rivals, the Earth Invasion Heretics, who claim to know the origins of seraphs and demons and the whereabouts of Thorn's missing twin, Rose. Hunter's world continues to expand in this highly original fantasy with lively characters where nothing can ever be taken for granted.