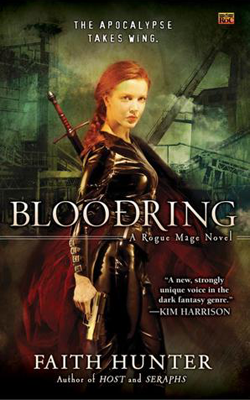 In a novel filled with exhilarating action and lush imagery, Faith Hunter portrays a near-future world, caught in the throes of an ambiguous apocalypse, where a woman with everything to hide finds her destiny revealed….
No one thought the apocalypse would be like this. The world didn't end. And the appearance of seraphs heralded three plagues and a devastating war between the forces of good and evil. Over a hundred years later, the earth has plunged into an ice age, and seraphs and demons fight a never-ending battle while religious strife rages among the surviving humans.
Thorn St. Croix is no ordinary neomage. All the others of her kind, mages who can twist leftover creation energy to their will, were gathered together into Enclaves long ago; and there they live in luxurious confinement, isolated from other humans and exploited for their magic. When her powers nearly drive her insane, she escapes—and now she lives as a fugitive, disguised as a human, channeling her gifts for war into stone-magery and the pacific tasks of jewelry making. But when Thaddeus Bartholomew, a dangerously attractive policeman, shows up on her doorstep and accuses her of kidnapping her ex-husband, she retrieves her weapons and risks revealing her identity to find him. And for Thorn, the punishment for revelation is death….
Bloodring Description:
Publisher: ROC; Reprint edition (November 4, 2008)
Author: Faith Hunter
Series name: Rogue Mage
Book Genre: Paranormal Fantasy / Urban Fantasy
Number of Pages: 336
Formats available: Paperback; Kindle; Nook
ISBN-10: 0451462416
ISBN-13: 9780451462411
Purchase Locations: Amazon (Paperback) Amazon (Kindle) Barnes & Noble
Also available at your favorite local bookstore. If they don't have it in stock, just ask for it!
Signed Copies Available Only At: The BooKnack (available via internet or phone order)
Online Book Review Locations For Bloodring:
You can read reviews of the urban fantasy book, Bloodring, at one of the websites below or leave one of your own!
Amazon
Goodreads
Google Books
Shelfari
Library Thing
Read an excerpt HERE
You can order them online at these vendors.