Mercy Blade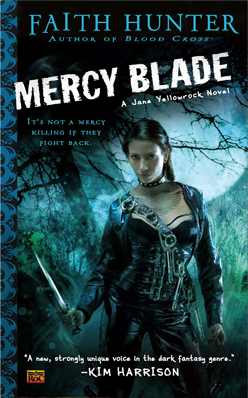 One of paranormal fantasy's toughest heroines, Jane Yellowrock, is back with a vengence. Mercy Blade, the 3rd book in the Jane Yellowrock series, hit bookstores on January 4th, 2011.
J
ane Yellowrock is a shape-shifting skinwalker and vampire hunter for hire. But lately instead of just slaying vampires, she's been working for them.
Jane crosses paths with a stranger who has arrived in New Orleans, enlisted to hunt vampires who have gone insane-or so he says…
---
Mercy Blade Description:
Publisher: ROC; January 4rd, 2011
Author: Faith Hunter
Series name: Jane Yellowrock
Book Genre: Paranormal Fantasy / Urban Fantasy
Number of Pages: 305
Formats available: Paperback; Kindle; Nook
ISBN-10: 0451463722
ISBN-13: 9780451463722
Purchase Locations: Amazon (Paperback) Amazon (Kindle) Barnes & Noble
Also available at your favorite local bookstore. If they don't have it in stock, just ask for it!
Signed Copies Available Only At: The BooKnack (available via internet or phone order)
Online Book Review Locations For Mercy Blade:
You can read reviews of the urban fantasy book, Mercy Blade, at one of the websites below or leave one of your own!
Amazon
Goodreads
Google Books
Shelfari
Library Thing
Read an excerpt HERE
You can order copies online from these vendors.
Amazon Barnes and Noble Borders BAMM