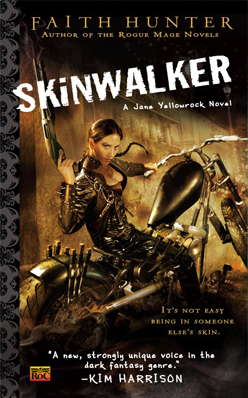 One of paranormal fantasy's toughest heroines, Jane Yellowrock, debuted with a vengence. Skinwalker, the 1st book in the Jane Yellowrock series, hit bookstores on July 7th, 2009.
A year ago Jane nearly lost her life taking down an entire blood family of deadly rogue vampires that preyed on the helpless local populace of an Appalachian town. Now, after months of recuperation, she's back and ready to fight again. Except this time, she's hired by those she's trained to kill—vampires…
Jane Yellowrock is the last of her kind—a skinwalker of Cherokee descent who can turn into any creature she desires and hunts vampires for a living. Back from hiatus, she's hired by Katherine Fontaneau, one of the oldest vampires in New Orleans and the madam of Katies's Ladies, to hunt a powerful rogue vampire who's killing other vamps.
Amidst a bordello full of real "ladies of the night," and a hot Cajun biker with a panther tattoo who stirs her carnal desire, Jane must stay focused and complete her mission—or else the next skin she'll need to save just may be her own…
---
---
Skinwalker Description:
Publisher: ROC; July 7th, 2009
Author: Faith Hunter
Series name: Jane Yellowrock
Book Genre: Paranormal Fantasy / Urban Fantasy
Number of Pages: 336
Formats available: Paperback; Kindle; Nook
ISBN-10: 0451462807
ISBN-13: 9780451462800
Purchase Locations: Amazon (Paperback) Amazon (Kindle) Barnes & Noble
Also available at your favorite local bookstore. If they don't have it in stock, just ask for it!
Signed Copies Available Only At: The BooKnack (available via internet or phone order)
---
Online Book Review Locations For Skinwalker:
You can read reviews of the urban fantasy book, Skinwalker, at one of the websites below or leave one of your own!
Amazon
Goodreads
Google Books
Shelfari
Library Thing
Read an excerpt HERE
---
You can order copies online from these vendors.