SHADOW RITES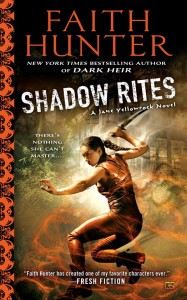 Slaying vampires is child s play for skinwalker Jane Yellowrock. But handling the complicated politics of New Orleans supernatural players is another story…
Jane is keeping the peace between visiting groups of witches and vamps in the city, but then trouble comes knocking on her doorstep. When her house is magically attacked, the wild chase to find her assailants unearths a mystery that has literally been buried deep.
A missing master vampire, presumed long deceased, is found chained in a pit…undead, raving mad, and in the company of two human bodies. Now it s up to Jane to find out who kept the vampire hidden for so long and why, because the incident could tip already high supernatural tensions to an all-out arcane war.
Book Details:
Series: Jane Yellowrock (Book 10)
Mass Market Paperback: 384 pages
Publisher: Roc (April 5, 2016)
Language: English
ISBN-10: 045146597
ISBN-13: 9780451465979
The song BLINDSIDED, by RODDY ROCKWELL is featured in one of the closing scenes of SHADOW RITES.
It is available in its entirety at all popular download outlets.