Hi all —
We have a special treat today. Lucienne Diver! Her new book FANGDEMONIU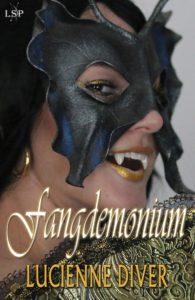 M is out now! I am a HUGE fan of this YA urban fantasy series. It is a MUST buy in my world — funny, face paced, and fun. I've read this one and it's To Die For! Or, better yet, To Be Undead For!
Except, Lucienne couldn't make it so her character came instead….
Gina here. Look, Lucienne was supposed to do a guest blog this morning, but she's not feeling it. It's Sunday. Her day off. Not that writers get days off . . . or literary agents, really. That's what she does when she's not busy writing me or, you know, someone less interesting. No, wait, that's Gina-centric, and I've grown as a character over the course of the Vamped series. Really, I have. (Don't argue, just read. You'll see.) Anyway…I'll try again: That's what she does when she's not writing about me or someone otherly fabled. Whoo! See there—growth.
Right, so I'm handling things. Lucienne would like to tell you that she's my "creator" and all that. She'd like to, but she can't quite manage it. If you ever talk to her about me (and really, you should; I'm a fascinating subject), you'll likely hear her say that I just appeared one day, fully realized, talking in her head and insisting on a story. She gave me one, a story. A vignette, really. Just a few pages, trying to get me out of her system. Didn't work.
She brought that vignette to her writers group, who told her what I could have all along—the story needed to be a novel. Or, really, a series, but we couldn't freak the poor girl out with too much all at once. To be honest, and I always am, I'm a lot to take. Lucienne wasn't sure she wanted to spend that much time with me. You see, I'm a bit opinionated. I like fashion and my friends, mochas and Manolo Blahniks, tanning options, for heavens sake . . . and I'd just been Vamped. The series starts off with my "Rules for Surviving Your Senior Prom," which I didn't. Sorry, didn't think that needed a spoiler alert since it happens straight off.
She was probably afraid that I couldn't handle it. She probably thought I'd whine and throw things and stomp my fashionable feet. But I surprised her. (I'm like that.) Instead, I decided to put on my big girl panties (designer, of course) and deal with it.
That's pretty much how we've gotten through the series. She lobs things at me, like having to claw my own way out of the grave, and I deal with it, broken nails and all. Rival vampiress, I've got that. Legendary figure from the mists of time. Well, give me a sec, I'm sure I can work that one out too. Or hell, I'll just go for it. I'm more a pantser than a plotter, something like my "creator".
But I'm getting off point. Lucienne's blog this morning was supposed to be about how I've grown and developed as a character over the course of the series. Blah, boring. I mean, I have, of course. I've learned that friends are not minions. Not everything can be solved with hair spray, though couple it with a spark and it makes a helluva flame thrower. I've learned that sometimes I have to stand back and let others shine. (I may still be working on that one.) In short, I've learned a lot about a lot of things. Lucienne wasn't so sure about me at first, but I've grown on her.
Not like a fungus. You just cut that out.
More like the bangs that you're not too certain about at first, because you can't pull all of your hair back into a hairband, but then you realize how they soften your face… Anyway, I'm just saying. I grew on her. I am more than I was when I started. Maybe it's everything she threw at me. Maybe it's, ugh, maturity. Whatever it is, I look back at the girl I was at the start of the series, and I think, "I wonder if I can borrow that dress?"
Gina out.
ABOUT FANGDEMONIUM:
Fanged and fabulous…and hunted.
Gina Covella, fashionista of the fanged, and her entourage are primed to reveal the existence of vampires on the popular Ghouligans television show, when their former federal handlers swoop in to shut them down and imprison the vamps in one of their super secret testing facilities. Or not so secret, as the gang knows all about the horror hospitals and has sworn to take them down.
Their daring escape runs them right into the arms of "the resistance"—a group of humans and vampires who've joined together to stop the fighting that's made Gina and her boy Bobby's hometown a bloody battlefield. Going home brings them back to old nemeses as well, including the psycho psychic who declared Gina "chaos" and Bobby "the key". They hope he'll unlock the secret of stopping the Feds's freakshow experiments for good, because they're building up to something big. Huge. And they're consolidating their power in the Big Easy, aka New Orleans, where what's cooking is nothing less than the final showdown.
Publisher: Lore Seekers Press
Price: $6.99
Release date:
July 17th, 2017
ASIN: B073BMFDJ8
Purchase Link:
Lucienne Diver is the author of Vamped young adult series (think Clueless meets Buffy) and the Latter-Day Olympians urban fantasy series from Samhain, which Long and Short Reviews called "a clever mix of Janet Evanovich and Rick Riordan". Her short stories have appeared in the KICKING IT anthology edited by Faith Hunter and Kalayna Price (Roc Books), the STRIP-MAULED and FANGS FOR THE MAMMARIES anthologies edited by Esther Friesner (Baen Books) and her essay "Abuse" was published in DEAR BULLY: 70 Authors Tell Their Stories (HarperCollins). More information can be found on her website:
www.luciennediver.com
.
GIVEAWAY
There's a tour-wide giveaway for copies of FANGDEMONIUM and a Rafflecopter gift certificate for 20 dollars! Open to US residents only. In addition, each blogger has a chance at a 20 dollar gift certificate.
Rafflecopter code:
Rafflecopter link: