Today is day two of Faith Gives Back to Fans Week. I am announcing two things today – a new FaceBook fan page and a giveaway in connection with it! First, the giveaway. Ron Taylor is a wonderful jewelry maker with fabulous designs in stone and wire. I have bought several things from him in the last year, and as you know, I never buy jewelry, I make it. But Ron's stuff is powerful, and I have made exceptions for his work. Okay, I have lusted after his work, and asked him to make me things, showing no dignity at all as I begged… I like his work so much that I want to share his fabulous work with all of you!
I talked him into offering three pendants as giveaways in a contest on my website. Here are small pics of the pieces that are being given away in two weeks' time, in a drawing. Below them, you can see part two of this post – how to win! Oh! To see more of Ron's work, here is his website: http://taylorsjewelry.webs.com/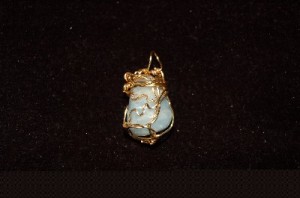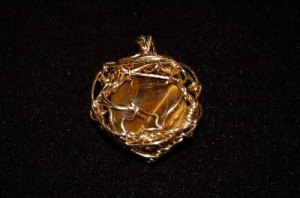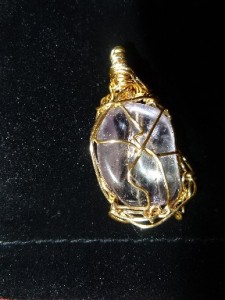 Ron has chosen to offer a blue calcite, a tigereye, and an amethyst. Gorgeous!
To win? All you have to do is *like* Beast's new FaceBook fan page, some time in the next two weeks. The contest will be closed on August 15th– which, coincidentally, is both Thorn St Croix's birthday, Jane Yellowrock's birthday, and, um, my birthday! Winners will be chosen from among the people who *liked* the fan page and announced on Tuesday August 16th  here and on all my FaceBook sites. Here is Beast's new address! https://www.facebook.com/pages/Beast/135860763157310
Hugs,
Faith