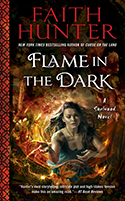 Book Details:
Series: A Soulwood Novel (Book 3)
Release Date: December 5, 2017
Mass Market Paperback: 352 pages
Publisher: Ace
Language: English
ISBN-10: 0451473337
ISBN-13: 978-0451473332
Latest News From Faith's Blog
Hi All,
I've been trying to reach you guys in new and (for me) adventurous ways. The newsletter was a start. The free short story in it was a start. And now I have more news. BLESS THEIR HEARTS is a podcast between Misty Massey and me. A PODCAST! I had to talk. On air! Into a microphone! GAH!!!
It was TERRIFYING! Misty kept laughing (in all kindness, of course) at the petrified, pale, distressed expression on my face. It was so knee-knocking for me, that we needed a safe word for when I messed up totally or when I panicked. The safe-word? It was platypus. For reals. Because I am pretty sure we will never use the word platypus in a real podcast.
I have no technical skills but Misty does and she has handled everything! So far we have 5 podcasts in the can, enough for 2 months. The podcast will be available every 2 weeks at the link above. We will be talking about everything from writing, to our characters, to life in general. And, starting after podcast 5, we will be taking questions from fans at the podcast's Facebook page here. Ask away!
We do promise to hold politics, religion, and other distressing topics at arms length. Because, Bless Their Hearts, we all need a cool back porch, fans turning above, that special place where Southern ladies "of a certain age" sip tea, eat cookies, and talk about life. Bless Their Hearts.
Check it out!
Faith
PS — If you need to copy and paste: http://www.mistymassey.com/bless-their-hearts